Title
HVAC Training and Scholarship Program Supports Next Generation of Professionals
Body
5/4/22
When it comes to training the next generation of smart home professionals, learning on the latest technologies makes all the difference.
That's why Minneapolis College and Resideo Technologies forged a partnership to enhance the Heating, Ventilation, Air Conditioning and Refrigeration (HVACR) controls and indoor air quality labs in the College's HVACR department. These labs are students' pathways to joining the next generation of HVAC technicians.
According to Beverly Wadsworth, Director of Institutional Advancement and Minneapolis College Foundation, "We are grateful for this new relationship with Resideo. It's an example of how we can create win-win partnerships between the College and industry to accomplish shared goals and strengthen the community in which we live, work and play."
Enhancing HVAC controls and indoor air quality training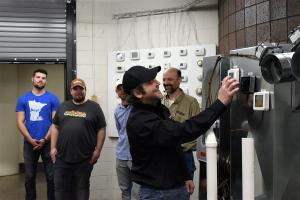 The Minneapolis College lab upgrade features the latest indoor air quality solutions from Resideo, which spun out of Honeywell International in 2018. To offer real-world learning opportunities, Resideo has outfitted the lab with four types of its Honeywell Home smart thermostats, along with UV lights, an advanced electrode humidifier, a dehumidifier, filtration and a heat recovery ventilator.
Jamie Quanrud, Resideo Training Leader, said touring Minneapolis College HVACR facility with Wadsworth and Dean Vince Thomas, Business and Economics and Trade Technologies, provided the seeds of ideas for this collaboration. "Walking through the Minneapolis College training facility allowed us to identify key product lines that were needed to help provide the lab with the latest Resideo products so that instructors could offer training on those products just as we do with our customers every day," Quanrud said. "Now students can install thermostats and other products that connect to an app. We live in a highly digital age, and we want to be able to help those students learn about the latest, greatest technology."
Resideo also donated \$25,000 to Minneapolis College's Workforce Development Fund for HVAC students at the school. The State of Minnesota's matching funds will increase the total to \$50,000 in HVACR scholarships. This will increase access to the HVAC program and financially support students' academic journey to ensure graduation.
"The monies from Resideo to fund this scholarship will go a long way in helping our students stay engaged and complete their academic training," said Wadsworth. "Our experience has shown that as little as $1,000 a semester helps students complete their training. In addition to tuition, fees and equipment, they have living expenses, so this money really helps."
Impact on Students
Lee U'Ren, Resideo Director of Products and Solutions, Training and Enablement, said the biggest opportunity for the industry is finding new employees. "We know that the trades struggle finding the employees that we need to grow. Not only Resideo but all its customers, partners and dealers, the whole industry is starting to retire and age out.
"The industry is changing in a massive way. Look at how the internet—the digitization of things—has proliferated in smart homes and businesses. Sharing this knowledge with the schools helps to ensure that the people that go through these programs are the ones that are going to hit the industry with all the most relevant and current skills necessary for them not only to be successful but also to implement these innovative technologies."
U'Ren said Resideo shares the technology so "we can hire students as they come through the program. This partnership provides a pool of the most current, up-to-date skilled employees entering the workforce. We can say, 'Here, too, is the graduating class from Minneapolis College.' We'd like to celebrate and share their success with our customer community, to showcase the people we know have the most current skills that are aligned with what is sold to homes and businesses today, and to say, 'You should hire them.' "
Greg Skudlarek, Minneapolis College Senior HVAC Instructor, said, "With Resideo's assistance, Minneapolis College can now offer training on state-of-the-art HVAC controls and indoor air quality equipment, giving our students an edge to compete for high paying HVAC jobs."
That adds to Minneapolis College's success in the industry.
"We have 100 percent placement," Skudlarek said. "It's not uncommon for our graduates, some 25 to 30 per year, to receive offers from multiple companies. Many students work, and we try to line them up with jobs paying \$20 to \$25 hour while they're in school."
"One of the residential shops we work with starts new technicians at \$33 an hour on the high end. If students go the commercial route, they will go into either Minneapolis or St. Paul pipefitters starting as full apprentices at \$29 an hour. Within four or five years, they're up to \$50 an hour. I've had students progress through two or three jobs while they're in school, and they get a better job when they graduate."
Skudlarek said a Resideo representative will be included on the program's advisory committee. Also, Resideo will have the opportunity to offer internships for the program.
With new tools at their fingertips, Minneapolis College alumni will be able to hit the ground running in an HVAC industry that's eagerly awaiting their passion and expertise.