Title
Thinking Outside the Box
Body
2/4/22
Tumi Nguyen
A coalition of Minneapolis College graphic design students, the Minnesota Department of Health (MDH),  Minnesota Malaria Community Advisory Board (CAB) and the University of Minnesota (UMN) Center for Global Health and Social Responsibility (CGHSR) developed a unique graphic and social media communication strategy to connect with local communities around international travel and infectious disease.
Designer Tumi Nguyen said most of the positive aspects of working with MDH were the flexibility and communication.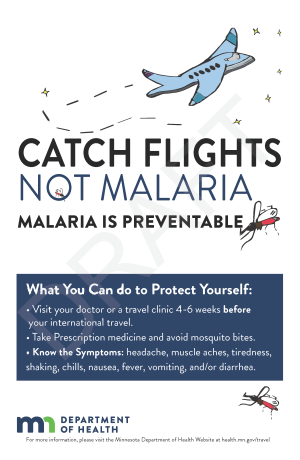 "This project with MDH was a cool, yet surreal experience," Nguyen said. "It allowed me a student's glimpse of being a designer. It is also rewarding to know that my work could be used for a helpful cause.
"I definitely still have more learning to do, but I think this project with MDH has really boosted my confidence as I approach career possibilities. This project showed me there are a lot of graphics design work possibilities that I'm so much more eager to explore."
Tumi said she started this project "just looking for a grade for class. I had no idea I would be selected for the MDH project. After I submitted my revised draft, I was contacted shortly afterwards and told my designs were immediately 'well-liked' in various stages. I was able to collaborate with the MDH team through video meetings about updates, feedback and revisions. From there, I was able to work on my own-time to finalize those details."
Messages for other students beginning Minneapolis College graphics design courses.
"Don't underestimate your ideas and don't be afraid to think outside the box," Nguyen said. "Messages for other students beginning Graphic courses at Minneapolis College would be not to compare yourself to others, think outside the box, and don't underestimate your abilities."