Title
Gregory J. Rose: Art is Freedom
Body
2/13/23
Some people raise the vibration of the room when they speak, and Gregory J. Rose of the Minneapolis College art faculty is one of those people. There is an urgency to his personality and to his urban abstract paintings: he looks for the positive in even the bleakest of situations, which may explain why he is a sought-after art instructor, mentor, collaborator and coach. 
A Pennsylvania native who now calls himself a Minnesotan, Rose has experienced the trauma of ongoing, senseless violence in every community where he has lived, from his youth in the Lehigh Valley near Philadelphia—where fire-bombing by police killed six adults and five children near his home, and where the murder of a beloved uncle remains unsolved—to fatherhood in Minneapolis, near the site of George Floyd's killing and countless other murders of Black men. 
Through creative expression, he has found ways to move through fear and anger to a place of strength, purpose and productivity, where his life experience can benefit others in a positive way.
At this point, "there's nothing that I'm scared of," Rose said. "I've seen too much and been through too much, and art, for me, is the way I can function in this world."
Learning to express ourselves artistically helps us to navigate the world and to understand our place in it, Rose said. "We're all in some kind of prison physically, mentally or spiritually, whether you call it bipolar, anxiety, stress, an eating disorder or whatever. But through art people can choose to be free from that. It's a choice. Art is proactive, holistic, nurturing, connected to lifestyle, family and community. Art is freedom," he said. 
"As a teacher, I'm concerned with how can I help you get to where you want to go? How am I going to help you work outside the boundaries of economics and food insecurity and racial injustice, even though all those might be very real limitations for you? The art we create becomes a conversation about all of that. And what happens is that students learn to feel free, like they have a shot," he said.
Rose began teaching in Minnesota in 2003. Some of his students have risen to prominence in the art world, including Pao Houa Her, whose work is featured in New York City's Whitney Museum of American Art; Nathan Petterson, an award-winning woodworker and illustrator now living in California, and Starasea Camara, a curatorial fellow at The Studio Museum in Harlem and at The Museum of Modern Art (MoMA). 
Right now Rose's work is on exhibit at three Minnesota State colleges—Ridgewater ("Out of the Dark and Into the Light" mixed media collection on display through Feb. 17), Inver Hills and Riverland. The work mixes recognizable images such as hair, clothing and sneakers with contextual elements that recall a city sidewalk, a neighborhood playground, and the creator's love of nature. The way these elements collide, overlap and weave together tells a story.
"What's most important about these exhibits is that they're all talking about equity and inclusion, which wasn't supported when I started out in the '90s. It's real-life, real-time intersectionality between trauma and the BIPOC experience and how it's connected to community. I think that's why we're getting attention and making an impact. It's a positive message, not me yelling and screaming about how everyone's wrong, but instead the work is about how we function as an ecosystem. And we know the healthiest ecosystems are the most diverse, but it's hard to get folks to understand that," Rose said.
His creations convey the tension between youthful camaraderie and the hand of authority, between hope and despair, between academic and professional accomplishment and institutional limitations. Even when his work deals with serious subjects like violence in the Black community, Rose will incorporate an element of escapism or humor. The work is abstract, yet accessible, shaped by the discipline of a master's degree in art.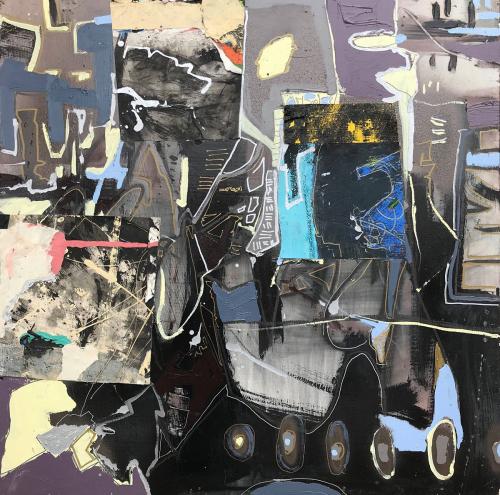 One of his favorite pieces is "Barefoot Metropolis," a mixed-media piece that recalls hot asphalt, skateboarding, a basketball jersey, legs in mid-leap, a moment of pure freedom. From a distance, it could be a map offering both on-the-ground topography and a satellite view of a neighborhood where kids play. The texture is rough: there is an unmistakable sense of place, which is comforting alongside suggestions of alarming news and disarray. As in much of his work, the elements appear to be in motion. 
In addition to his paintings and mixed media work, Rose participates in collaborative work and in 2018 was selected for Global Art Project VII, a residency in the African country of Senegal, where he and other influential mixed-media artists co-created art for international exhibition. 
Rose also speaks and writes about art, and was recently tapped by the Minneapolis Institute of Art to compose didactics (informative text displayed beside work in a gallery) for two pieces by Andrea Carlson. In the summer of 2022, he curated the multiple-artist exhibition "Change is God - Take Root Among the Stars: Black Abstraction in the Midwest" at the Soo Visual Arts Center. 
On top of all that, he also does commercial voiceovers. "I try not to have all my eggs in one basket," he said.
Teaching rounds out Rose's creative life. More than just a job, teaching at Minneapolis College enables him to mentor a diverse population in a form of expression that they can use to address the increasing challenges of planetary health and social justice. Training in art is important to other career choices, too, such as health care and policing, Rose said, because it teaches you to observe the world and "really see" without giving in to personal biases and insecurities.
At Minneapolis College, Rose teaches Drawing, Painting, 2D Design, Life Drawing, and Introduction to Art, any of which can help to fulfill the Humanities and Fine Arts requirements of the Minnesota General Education Transfer Curriculum or an Associate of Fine Arts degree. But the value of these courses transcends the technical skills that students learn, or the credits earned.
"My job is to get you to look at the world differently, so you are able to be vulnerable and shift and grow," said Rose. 
See the Gregory J. Rose Exhibition, First of Many Steps Back… at Gallery 120 in the atrium of the Fine Arts building on the Inver Hills Community College campus now thru April 19, 2023.