Title
Child Care Access Means Parents in School (CCAMPIS)
Body
10/26/22
Access to affordable childcare is essential for many community college students. The U.S. Department of Education's Child Care Means Parents in School (CCAMPIS) Program provides colleges with funds to run campus-based child care services or offer students grants toward off-campus options.
Minneapolis College was awarded $1.2 million over four years through September 2026. This new round of funding enables the College to continue the successful program it established with its previous funding in 2018, assisting parents who have limited income with expenses related to childcare.
"There are more than 1,000 student parents at Minneapolis College," said Lydia Nobello, Resource and Referral Specialist at Minneapolis College who manages the CCAMPIS grants. "CCAMPIS funding is a large part of the College's comprehensive network of people and resources that is instrumental in supporting student success. College can feel daunting and stressful for student parents who have limited income and don't have access to affordable child care. This funding alleviates some of that stress."
Sarah Kaba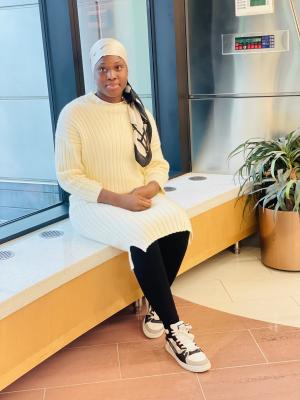 When Sarah Kaba moved to Minnesota from Africa in June of 2018, her dream was to go to school. She learned about Minneapolis College while studying English as a Second Language nearby. Once on campus, it felt like a second home to her. "Minneapolis College is amazing," said Kaba, who enrolled in the College in 2019 and after meeting all of the prerequisites, will begin its Nursing Program in the spring of 2023. "I have received so much support from the College on my journey to becoming a nursing student. And if it weren't for CCAMPIS funding, there is a 75 percent chance I would have to stay home due to the lack of affordable childcare."  
Kaba was able to easily access CCAMPIS support to pay for the childcare expenses for her four young children, making it possible for her to stay in school. "The CCAMPIS application process felt easy," said Kaba who originally learned about the funding from her academic advisor. "My hope is more parents, like me, will learn about and access this funding. As a work study employee in the Student Support Center, I will do my best to spread the word and connect students with resources like this that will boost their success." 
Is CCAMPIS Right for You?
Applications for CCAMPIS funding are reviewed based on eligibility on a first-come, first-served basis.
Eligibility requirements include:
Currently enrolled student
Cumulative GPA of 2.0 or higher
Child enrolled in or seeking enrollment in a NAEYC certified childcare center
Meet income guidelines
Recipient of the Federal Pell Grant
Not a recipient of county childcare assistance
If you are interested in learning more about CCAMPIS funding, contact Lydia Nobello at ccampis@minneapolis.edu or 612-659-6709. Lydia is poised to walk students through the application process and answer questions related to CCAMPIS and other resources available on campus.