Title
Amy's Pantry Serves Students with Food and Sundries Mon. - Thurs.
Body
4/16/19
At Minneapolis College, one of the most active student groups is Students Against Hunger and Homelessness (SAHH). The name of this club requires of its members more than just a vote of confidence but real student involvement.
The solution for real involvement was to start a free food pantry. The first choice for location was in the Helland Student Center. Done.
Who would run the pantry? Student club members. Done.
Then, where to get donations to fill the shelves of the pantry with food and sundries? Since student groups have a faculty advisor, why not faculty donations? Why not staff donations? Done.
Other donations? Bring non-perishable food to any theater performance (which are free) at Minneapolis College. It goes to Amy's. Done.
What about just a snack between classes? That requires perishable food like bread, meat or cheese.
Who can donate fresh food to hand out regularly for these snacks? Nearby, First Unitarian Society and St. Mark's Episcopal Cathedral. Done.
Headquartered in the Helland Center, first floor, you'll find this free food pantry next to the vending machines and microwaves: Amy's Student Food Depot.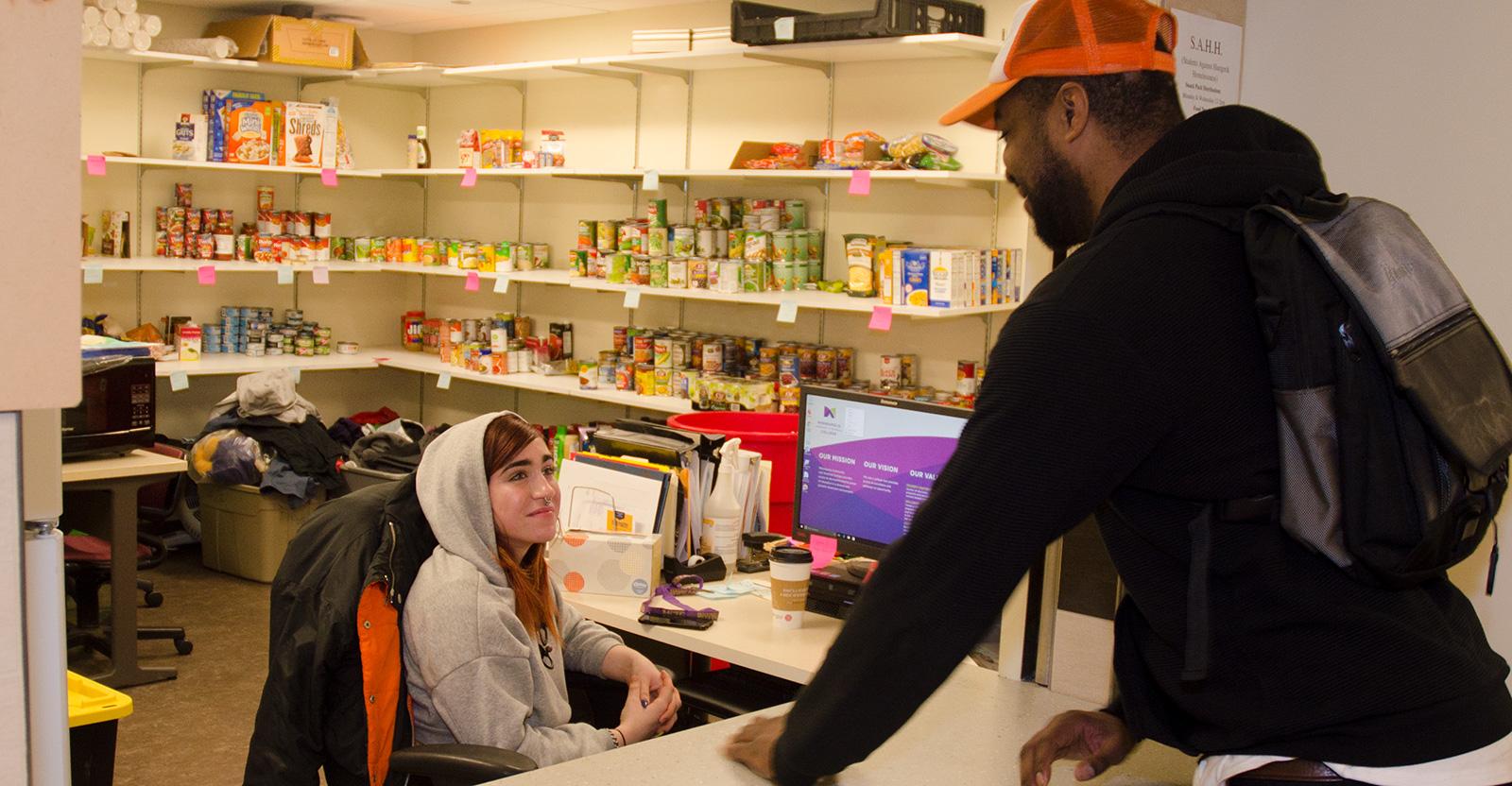 Hours can change each semester, but for now, it's:
Monday | 12:00 - 2:00 p.m. | Snack Packs
Tuesday | 12:00 - 2:00 p.m. | Food Pantry
Wednesday | 12:00 - 2:00 p.m. | Snack Packs
Thursday | 12:00 - 2:00 p.m. | Food Pantry
From the SAHH homepage:
According to a survey from years past, an estimated 1 in 10 students at Minneapolis College is suffering from some form of homelessness. This is an unacceptable statistic that denotes a crisis here in our own community. The good news is we all have the power to take action on this initiative and once and for all end hunger and homelessness in our school.
Amy's Student Food Depot was named in memory of Minneapolis College student Amy Bartholemew in 2014.