Title
Library - Tour the Library
Widgets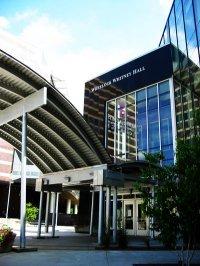 Welcome to the Minneapolis College Library. These pages are intended to introduce you to our library, the resources we support and the services we provide.
One of the most notable features of the Library building is the art installation Silences, a commissioned Public Art Work by New York artist Dennis Adams. The work consists of seventeen double-sided light boxes, each depicting a different pair of hands holding a book with the word "silence" in its title. Silences was funded by the MN State Arts Board Percent for Art Program.
Our Services
Our Library provides numerous services to assist you in your academic pursuits. Our extensive Ask a Librarian services include in person and online help from professional librarians. As a current student, faculty or staff you are able to borrow material both from our library and our partner libraries.
Our Resources
We provide access to thousands of resources in print and online; from print books to streaming video. One highlight is our alternative media collection which includes over 5,000 zines from local, national and international creators and artists.
Our Study Spaces
We know finding the right place to study can be difficult. That's why we have designed a variety of spaces to fit your style. Whether you are looking for a quiet spot or a place to work with others, our Library has the right space for you.