Title
First-Generation College Student Celebration
Widgets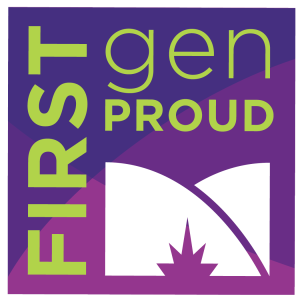 National First-Generation College Student Day is Tuesday, November 8. You are invited to join us as we celebrate the success and presence of first-generation college students, faculty, and staff at Minneapolis College.  
This year, we are hosting events virtually & in person. You can also participate by completing this brief form, to share a little bit about your First Gen Proud story with us, which will then be posted on this webpage!
In-person and Virtual Events 10 a.m. - 2 p.m.  
10 a.m. – 2 p.m.
Join us in the T-Plaza T.1400 for First-Generation Student resource tables, and selfie station.  Stop by the Library to see the display honoring First-Generation College Students. 
10 a.m. – 10:45 a.m. |  Introduction to Student Support Center and Resources for Students | In-person T.2400 and Zoom Room
Learn about some of the services provided by the Student Support Center, including counseling, housing navigators, the food pantry, support for student parents, childcare assistance, Hennepin County benefits, emergency grants, student conduct and complaints. 
10 a.m. – 10:45 a.m. |  Minneapolis College Website Digital Treasure Hunt | In-person T.3700
An In-Person-virtual scavenger hunt on the Minneapolis College website. Not only will they learn to navigate our website and our many resources in a fun and tangible way, earn snacks and swag while doing so!
11 a.m. – 11:45 a.m. |  Minneapolis College Website Digital Treasure Hunt | Zoom Room 
A virtual scavenger hunt on the Minneapolis College website. Not only will they learn to navigate our website and our many resources in a fun and tangible way, earn swag while doing so! 
11 a.m. – 11:45 a.m. |  Explore Your Career Option! Career workshop | In-person T.2400 and Zoom Room 
We will highlight the career development stages and our services.  In addition, you will get an opportunity to outline a career development plan that aligns with your current major and career choices. 
11 a.m. – 11:45 a.m. |  Hidden Treasures of the Library | In-person L.1200 and  Zoom Room 
Where is one of the largest zine collections in Minnesota? Where can I reserve a room to study by myself or with others? Where do I access class materials on reserve? Where can I get help with my research project? ANSWER: The Library! Come to this session to learn more about how to connect with us in person and virtually.
11:45 a.m. - 12:15 p.m. | Group Photo Opportunity for all First Generation Staff, Faculty & Students | In Person T.1400 Selfie Station 
12 p.m. - 1:15 p.m. |  First-Gen Proud Panel  | In-person T.1400 and Zoom Room
The First-Gen Proud Panel is a mix of Minneapolis College's staff and students who were the first to go to college. Come listen to their lived experiences and advice for overcoming the challenges of higher education. Moderated by Dean of Students Beck Nordin, featuring President Pierce, Faculty Hope Doerner, Student Complaint and Conduct Officer Bryce Gloppen, TRIO student Asho Haji, Jerry Sirisavath, and alumnus, Jeremiah Rotich. 
1:30 p.m. – 2:15 p.m. |  Need Money for College! Financial Literacy Workshop |  In-person T.2400 and Zoom Room
The Free Application for Federal Student Aid (FAFSA) is the key to getting free federal financial aid to pay for your education.  The FAFSA is also required for most types of financial aid, including scholarships!  Financial Literacy is as important in life as the other basics.  Good money management is good life management.
1:30 p.m. – 2:15 p.m. |  Study Skills Workshop | In-person T.3200
How can we make study time less frustrating and more productive?  This session will help you discover your unique strengths, organize your time, and develop valuable study skills.  You will see what works best for you and make your plan for college success! 
Dear Fellow First-Generation Students,
The annual National First-Generation College Celebration Day is Tuesday, November 8, 2022. We commemorate the anniversary of the signing of the Higher Education Act (HEA) of 1965. HEA is intended to help level a playing field that for too long had been weighed against Americans from minority and low-income backgrounds. In addition to creating federal grants and loan programs to help students finance their educations, the legislation made key investments in institutions of higher education. HEA is the foundation of our Federal TRIO programs, Educational Opportunity Center and Starting Point. TRIO supports students with access to higher education, retention, and completion for low-income, and first-generation college graduates.
I am thankful for HEA and the opportunities it has afforded me.  Twenty-nine years ago, I discovered myself in a foreign place called college. I found myself always questioning, "Do I belong here?"  As far back as I can remember, my mom was my main supporter and cheerleader.  While my dad worried about the thought of me going to college.  My mom put the thought in my head that I was worth attending college.  She would start sentences off with, "when you go to college…" or "someday you will get the opportunity to go to college." She's the person that helped me with my FAFSA and co-signed for student loans.  And even though my dad was not keen on the idea of his daughter getting a college education, he was the one who reminded me on a regular basis not to forget where I came from and to remain grateful and humble.
During my college years, I transferred between three (3) colleges, due to the ever-rising costs of tuition. I pursued a degree in psychology. I graduated 26 years ago from Illinois College. I will never forget that day. I never saw my dad in a prouder moment. His face was bursting with enthusiasm, and he had the hugest smile I'd ever seen. This was remarkable for a man that never expressed his emotions. My undergraduate experience completely transformed my identity. I felt confident and incredibly empowered. I was ready to "save the world!"
I began working as a crisis counselor serving runaway abused and neglected youth within a five-county area in Illinois. I also worked as a family educator for catholic charities youth home in the St. Louis, MO metro area. I was fortunate to have an exceptional supervisor that saw something in me that I didn't. She told me that I needed to further my education.
I refused to believe that I could attend graduate school. I felt like I barely made it through college working three jobs and now making student loan payments. She pushed me. I applied. I was accepted to Saint Louis University (SLU), School of Social Work. I felt like an imposter. It was difficult for me to believe that I was chosen. Again, I questioned if I belonged. 
I attended graduate classes on Friday nights and Saturday's, commuting from Illinois to downtown St. Louis, MO. I met my self-coming and going working full-time and on-call crisis. The thought of giving up occurred to me several times, but I kept on going.
One day, while on a class break, I met a person that worked at the university. We struck up a conversation. She shared with me that she worked in the university housing and dining office and that they were looking for graduate assistants. She shared that the university would pay for a master's degree in higher education administration while working in residence life. I was a resident assistant (RA) in college and never knew higher education as a professional position. I asked for the fax number to send in my application materials. Two weeks later, I was moving on to the SLU campus as a residence hall director for Parks School of Aviation. 
I continued to work for SLU as a residence life community coordinator until I received my master's degree. That graduation day, my dad told me that he was proud of me and that is the first time I ever heard those words from him. I finally found my vocation in student services. I moved to Minnesota to work in residence life at the College of St. Benedict.
In 2004, I came to Minneapolis College and finally found my home. For the past 17 years I have had the opportunity to serve the most resilient, hard-working, fearless, and innovative students. I find it rewarding to help students remove barriers to achieve the dreams of education. I have been able to put my passions of social work and higher education to the test.
I personally know that being a first-generation college student comes with its own set of challenges. I want to provide some advice for how to navigate your first-generation experience.
#1 – Know that YOU BELONG!
#2 – Be sure to build a support team. This may be family, friends, or co-workers. 
#3 – Don't forget how you started and where you came from.
#4 – Don't let others or their fears hold you back.
#5 – Get to know people, network! You never know where you may find your next opportunity.
#6 – Take advantage of all the college resources available to you. 
#7 – Don't worry if you are an undecided major. Be willing to explore career opportunities. Keep an open mind.
#8 – If you need help, don't be afraid to ask.
#9 - Help the next person behind you.
#10 – Practice an attitude of gratitude.
Minneapolis College is on this first-generation tour with you. Many of the staff and faculty are also first-generation students that understand the challenges you are facing. Life and all its complexities can be a real struggle. There are many resources available to you at the college. I encourage you to reach out faculty and staff and let them know if you have a need or if you are looking for a resource. We care about you and want you to succeed. 
I am so very grateful for the opportunity to share my story with you. I am proud to be a first-generation student.
Sincerely,
Becky Nordin
Dean of Students
Dear First-Generation College Students:
You are courageous, resilient, creative problem solvers. Being the first in your families to attend college means you are a trailblazer, perhaps even a beacon of hope and role model. Being a first-generation college student can be challenging, in addition to course work, there is a lot to learn. Navigating the complexity of college systems can be scary. The social distancing measures that enable us to operate safely during the COVID-19 Pandemic have added to the complexity.
We recognize the challenges many first-generation college students typically experience may have been exacerbated by the pandemic. But, every journey to new place is easier with a travel guide and road map. Minneapolis College has many resources to aid your journey; I encourage you to take advantage of all the services available to you.
Many of our faculty and staff are first-generation college students, we see ourselves in you. We know what it is like to juggle jobs, family responsibilities and college. The challenges are real, but so are the opportunities. As a first-generation college student, I struggled with the seemingly cloaked administrative structure of the university I attended. One connection with one administrator made the difference in my success. Don't be afraid to reach out for help if needed, and don't be afraid to be the help someone else may need. Encourage yourselves and one another.
The National First-Generation College Student Celebration honors the signing of the Higher Education Act of 1965. The Higher Education Act was designed to help minority, low-income, and first-generation students access education opportunities they had been previously denied. Minneapolis College is proud that twenty-six percent of our students are first-generation. Thank you for choosing us, it is a privilege to be part of your journey.
Sincerely,
Dr. Sharon J. Pierce
President
If you need disability related accommodations to make this event accessible, please contact the Accessibility Resource Center at 612-659-6730 or accessibility@minneapolis.edu. Minneapolis College is an equal opportunity employer and educator and member of the Minnesota State Colleges and Universities system.